Integrated Control Units
Application Type --- Installation of new lifts or renovation / replacement of existing lifts;
Motor Control --- Synchronous (gearless) machines or induction (geared) machines;
Drive System --- With machine room or MRL;
Cabinet Installation --- Inside or outside the shaft;
Speed Range --- Up to 4 m/sec;
Group Operation --- Up to 8 lifts;
Number of Floors --- Up to 64 floors;
Car Wiring --- With CANBus serial communication (standard);
Landing Wiring --- With pre-wired CANBus serial wiring or with conventional wiring (up to 16 floors with parallel connection option board);
Car Positioning --- With incremental or absolute encoders mounted onto motor shaft;
Door Operation --- Two independently operated car entrances;
Evacuation Operation --- By using a single phase 230V UPS and battery;
Feedback Options --- Incremental encoders (5V TTL or 10-30V HTL) or absolute encoders (EnDat, SSI, SinCos or BISS);
Automatic Settings --- Auto tuning, shaft learning, control gain calculation;
Rollback Prevention at Start --- Pre-torque function (with an analog signal from a load cell) - Anti-rollback function (without any external load signal);
Handset (AREM) --- Colour TFT display with user friendly and multilingual interface - Control the system from anywhere via CANBus;
Software Update --- Fast and reliable updating system via AREM at one time;
Additional features:

Direct landing;
Internal input EMI filter;
Internal DC choke;
Internal change-over relays for evacuation operation;
Door pre-opening and fast start (with optional module);
Digital shaft learning;
Short floor travel without any necessary hardware or settings;
High stopping accuracy;
48 - 230 VAC safety circuit voltage;
Energy saving mode;
Programmable inputs and outputs;
Special lift test menu.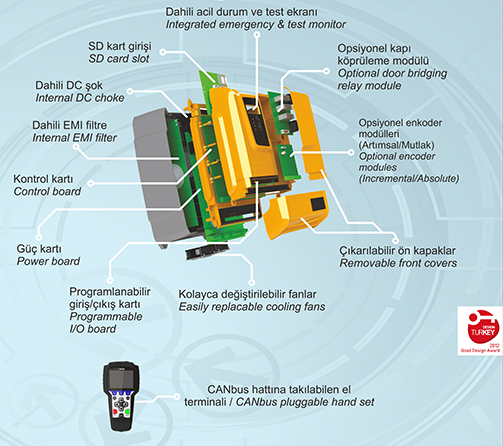 AREM:

User friendly 330 x 240 TFT display;
Monitor even the smallest details via powerful visuals;
Control the system from anywhere via CANBus;
Easy error detection;
Fast and reliable updating system via AREM at one time;
Supports all Arcode systems;
Different accessibility levels for three different users for specific needs (guest, maintenance, expert);
Install, back up and transfer parameter settings to enable quick setup.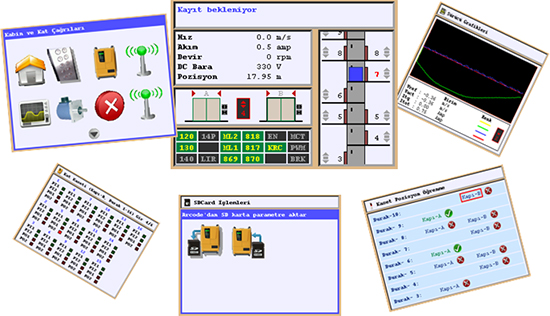 ARCODE Peripherals:
Inspection Box controller: IBC makes the connection between car and control panel
Car Panel Controller: CPC collects commands from car operating panel and sends them to the inspection box controller
The connection boards in control panel
ENCA is used to get absolute encoder data
ENCI is used to get incremental encoder data

Door Bridging Board:

Open door relevelling;

Door pre-opening

Fast start (preparation before travelling)

Information screen for Door Frame Type Panels
Serial to parallel conversion board
Gray/Binary code converter board
Landing Call Module
Call/Indicator Module ( 2 x 30 mm dot matrix displays-CANBus Interface)
Call/Indicator Module ( 3 x 30 mm dot matrix displays-CANBus Interface)
Landing Call & Indicator Unit ( 128 x 64 pixel, 70 x 40 mm LCD indicator)
Gathers car position information required for re-levelling and door pre-opening and sendsthis data to ARCODE integrated lift control unit.
ARCODE MRL Panel: